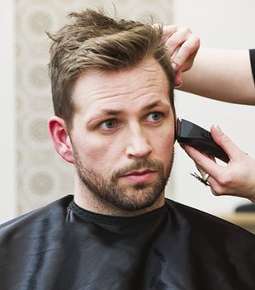 Our salon offers a full range of hair services for men. Our stylists are highly trained to provide grooming and styling treatments for men who want to look their best.
Best of all, you no longer need to worry about figuring out what works for you. Our stylists can give you great advice on the latest men's styles, trends and grooming products.
Each service is tailored specifically to your needs and aesthetic desires, including the texture of your hair, the way it falls, your face structure and the look that you are going for. In the end, you will be amazed at how great your hair can look.
Every man who walks through the door is given the time and attention that he deserves. Let us show you how confident you will feel with a great haircut!
Men's Services
Our men's services will help you look great and feel more confident about your appearance. Not only do we take the hassle out of looking your best, but we also we pride ourselves on saving you time and money.
Some of our most popular men's services include:
Men's haircuts. We have experience with all men's hairstyles. After a short consultation, we shampoo, condition and rinse your hair before giving you the cut you desire. We finish your haircut by styling your hair to your specifications.
Hair coloring services. Whether you are looking to add highlights to your hair or want a little grey blending, we have you covered. We will even take care of your beard, too.
Men's scalp treatments. The therapeutic scalp treatment will give your scalp the boost that it needs to be healthy again.
Men's skincare treatments. The next time you are in our salon, don't forget to ask about our skincare treatments for men, which include deep cleansing and exfoliation followed by hydration and rejuvenation techniques.
Nail treatments. We put the man in manicure. We will take care of your nails and cuticles, topping it off with a relaxing hand and arm massage. We can also give your feet the same royal treatment.
Whether you need a whole new look or some simple maintenance, you can count on us to give you the look you desire. Contact our salon today to schedule your appointment.