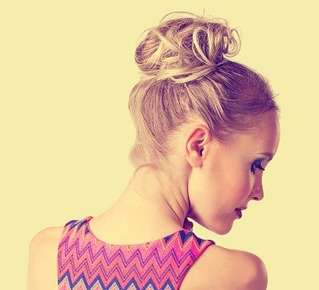 Sometimes we wake up looking and feeling like a million bucks, other mornings we wake up and the appearance of our tresses tell us that this is not going to be our best hair day. With these three easy fixes for those types of mornings, every day can be a good hair day.
The Topknot
Simultaneously professional, polished, and undeniably alluring - a messy topknot covers a multitude of hair sins. Gather uncooperative hair into a high, loose bun, allowing a few tendrils to escape. Secure the bun with a few well-placed bobby pins and use a curling iron to add a few sleek curls to soften the look. When your colleagues tell you how great your hair looks, you can say thank you with confidence.
Tame the Bangs
Did you wake up face down in your pillow with creases across your face and bangs that look like they were gelled straight up? Without time for an entire shampoo and restyle, tame your bangs with a hairline braid along your forehead that tucks neatly behind your ear under your loose strands. Braids work and hold well in hair that's not freshly washed, making this a perfect style solution for those days when a shampoo is not on your to-do list.
Embrace the Unruliness
Curly hair sometimes seems to have a mind of its own. Embrace your out-of-control curls by sculpting them, not controlling them. A few quick spritzes of water or your favorite styling product can eliminate frizz and reactivate your natural curl. Frame your face by gathering long bangs with a few strategically placed bobby pins and you are ready to face the day.
Do you find yourself having more bad hair days than good? Our professional stylists can work with you -- and your hair -- to create a unique style that works with your hair's texture to make every day a good hair day. Contact us to make an appointment.