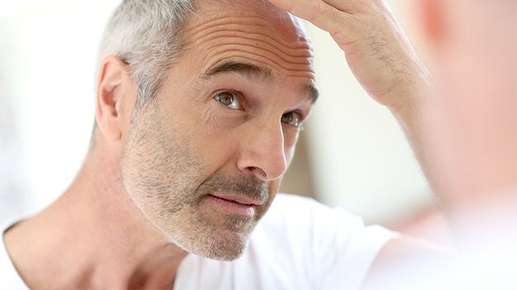 Thinning hair can be a real drain on your confidence. Most often, genetics is the culprit behind hair loss. However, that doesn't mean you need to give up once your hair starts to thin. With the right hair products or style, you can give your fine or thinning hair a little boost.
Fine or Thinning Hair Tips
Wash you hair right. Washing too often, and in too hot water, can damage your hair and may increase your hair loss. Wash no more than once a day, using a high-quality shampoo and conditioner. On the flip side, under-washing can leave your hair dirty and greasy, which will emphasize any thinning areas.
Eat right. Your hair's strength begins with your diet. Eating a well-balanced diet rich in fresh fruits and vegetables will give you all the nutrients that your hair needs. If you think you are not getting enough protein in your diet, you can use a high-protein sports nutrition supplement. A daily multivitamin will also catch any nutritional deficiencies in your diet that could affect your hair.
Give up smoking. Some research suggests that smoking cigarettes may increase the level of hormones that cause hair loss. Smoking also decreases blood flow to your scalp, basically starving your scalp of much-needed nutrients.
Talk to your doctor. If you are really worried about your thinning hair, your doctor can run through the options available to you, like medications for thinning hair.
Products for Fine or Thinning Hair
To give your thinning hair the best support, try one of these hair products:
Shampoo and conditioner. Look for thickening shampoos, conditioners and sprays. These contain special compounds that will make the shafts of your hair "plumper," which will give your hair a fuller look. These need to be used regularly, since the effects are short-lived.
Hair mousse and spray. The right hair product can add structure and volume to your hair, making it look fuller and thicker. Be careful not to overdo it, otherwise you will have an oily, slicked-back look.
What to avoid: Skip the heavy gels and waxes, which can weight down your hair, leaving it looking flat and thin.
Fine or Thinning Hair Styles
Finding the right hair style for your head can make thinning hair less noticeable. To give your confidence a boost, try these:
Go with a short hairstyle. Short hairstyles, including the buzz cut, can minimize the look of your thinning hair. Keep the thicker hair at the back and sides shorter. If you still have enough hair to play with, try an unstructured short cut to distract from your hair loss. If you have the right head structure, you can even get away with shaving your head.
Add some texture. Your hair stylist can add texture throughout your hair by cutting it at an angle. This creates the look of depth, which reduces the balding look. A messy, relaxed look may also help, and will give you a care-free attitude.
Style with your fingers. Using a comb or brush on your hair can make your hair look flat and limp. Instead, use your fingers to add texture and volume to your hair style.
Blow dry for volume. Blow-drying can add volume to thinning hair, but don't over-do it or you can damage your hair.
Grow a beard. With a little sleight-of-hand, a beard can take attention away from your receding hair line or thinning hair. Ask your hair professional to help you find a beard style that works best for your face.
What to avoid: A combover or toupee may seem like a good idea when dealing with thinning hair, but they never look as natural as one of the other hair styles for thinning hair.
To find the best hair products and styles for your fine or thinning hair, make an appointment with your hair care specialist.